It's
#TORsday
at Cubicle 7. It looks like we may be getting an updated
Rivendell
sourcebook for
The One Ring
as well as a brand new supplement focusing on the Shire!
'The world is indeed full of peril, and in it there are many dark places; but still there is much that is fair, and though in all lands love is now mingled with grief, it grows perhaps the greater.'

With

The One Ring – The Lord of the Rings™ Roleplaying Game

the Tale of Years is advancing closer to the events of the War of the Ring and the lands of Middle-earth are growing dark. But this does not mean that there are not places of life, joy, and respite. The folk of Middle-earth still laugh, drink, and sing and below are two such places your Company can find respite.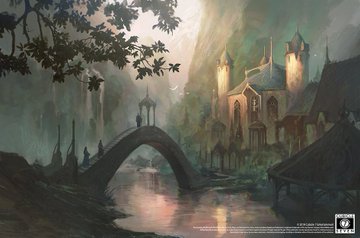 If the default year is T.A. 2965 (more-or-less) then the last Free Fair was in 2964 and the next will fall occur in 2971. The current Thain of the Shire is (as noted in the story) Fortinbras Took (II). The current Master of Buckland is Rorimac 'Goldfather' (later 'Old Rory') Brandybuck.
UPDATE:
Cubicle 7's Emmet Byrne has posted a
clarification
: "These are both from the core, the art and the write up. No plans to update Rivendell until it goes out of print, and no plans yet for a Shire supplement."
I wasn't sure that the original
Rivendell
sourcebook was close to going out of print, but I really was hoping for an announcement for a sourcebook for the Shire.