Hi everyone !
I'm getting married on march, saturday the 2nd, and our wedding will be almost fully based on a LOTR theme.
Here are the basics we wanted on our rings, that we sent to the jeweller :
The french text says :
- "this star is the main element for the outside of the rings"

- "here is the final text to use"

- "It means "You are my Arkenstone" in Elfish. The Arkenstone is a unique jewel, the "heart of the mountain" "

- "This is the final text for the outside of the rings. If possible, the idea is that the end of the letters progressively blend with the beginning of the mountains' drawing, without modifying this text, perhaps by adding a line in order to join the two designs."

- "This text is the final text pour the inside of the rings.
In the end there will only be one star, in order to separate the end of the sentence from its beginning.
Here, I draw two stars in order to indicate its position from the text.
And here are the wax tests of our wedding rings :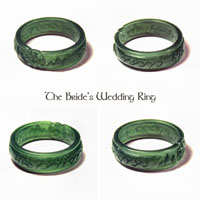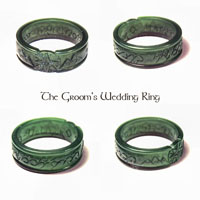 I want to thank Gladhaniel, Vea Mi Olori, and Isildilmë very much for their help !
I will post pictures of the finished rings as soon as possible, and maybe some wedding pictures as well