Have you ever seen a movie that was so BAD, it was actually good?? I remember a movie I watched as a kid, and it really creeped me out. It was a movie called Santa Claus:
It was made in 1959 in Mexico, then dubbed in English in 1960. It tries to be cute, but ends up creepy. It was so bad, that it has been featured on Mystery Science Theater 3000 more than once:
https://www.youtube.com/watch?v=sBAkX8vWflY
It takes everything you know about Santa and turns it on its head. The cute promo at top doesn't give a clue to how bad it really is. Santa doesn't live at the North Pole, but in outer space in a crystal castle. There are no elves to help him, just children he has kidnapped from around the world who sing to him in trance-like voices.
He is aided by Merlin the Wizard, who supplies him with powder of dreams, (You didn't know Santa was a drug lord in his off days, did you?) a flower to disappear and other stuff like that. He has a lab that looks like Pee Wee's Playhouse gone weird, with an eye on a stalk that looks at you, an ear on a satellite dish, and a computer with big lips that would frighten little children. But more than that, he has these wind-up mechanical reindeer who will turn into dust in sunlight, (must be related to Dracula) and laugh in a way that chilled me when I was a kid:
https://www.youtube.com/watch?v=rwkkctAZM_Q
Remind you of a scene from Evil Dead 2?
https://www.youtube.com/watch?v=J_xJUQxE9tY
He has a villain who tries to stop him, a devil named Pitch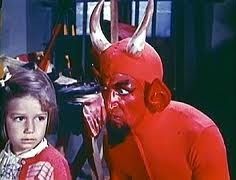 who tries to make kids do evil and defeat Santa. He blows in the ear of a little girl and gives her nightmares of dancing dolls straight from the Walking Dead:
https://www.youtube.com/watch?v=amfu1gvM5U0
After several narrow escapes, Santa does defeat the devil and deliver his toys to...well...five houses in Mexico City.
There are few Christmas movies worse than this one, like Santa Claus Conquers the Martians:
https://www.youtube.com/watch?v=HnEJrwYXXsI
or Santa Claus and the Ice Cream Bunny, which I'm not even going to show here, or the infamous Star Wars Holiday Special
https://www.youtube.com/watch?v=F3-Df7ROAxA
Can anybody think of a Christmas movie that they regret seeing, or seeing again looked funny when it was just horrible?