Orlando Bloom brought a touch of Middle Earth to the Pirates franchise with his nifty little tattoo he got after filming LOTR.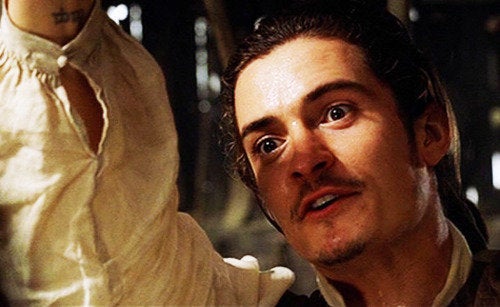 From the article:
Orlando Bloom was one of eight lead actors in "Lord of the Rings" to get a Fellowship tattoo."It says nine, in Elvish, which stands [for the fact that] there were nine in the Fellowship," Bloom told IGN back in 2003. If curious why nine lead actors didn't partake in tattooing themselves in Elvish, this is because John Rhys-Davies -- who played Gimli -- let his stunt double get the tattoo instead.

In any case, this Elvish tattoo ended up appearing in one of Bloom's next roles, as Will Turner in "Pirates of the Caribbean." Although magical elements certainly exist within the "Pirates" universe, the addition of Middle Earth into the plot sinks things faster than that whirlpool in what should have been the third and final movie in the series.

EDIT: For the record, I love the Pirate movies
I am looking forward to the new one coming out too.