Introduction



This is the first episode of my journey through the ancient Dwarven realm of Khazad-dúm, once known to the Eldar as Hadhodrond but now more commonly called Moria, which roughly translates to 'Black Pit'.



Episode I



After skirting the edges of a large brackish pool clogged with foul-smelling weeds and such, I finally arrived at the West Gate of Moria. I understand that in former days a beautiful carven door illuminated with ithildin, a substance that could only be seen in moonlight, secured the entryway but, alas, it had very recently been destroyed by a monstrous creature of unknown origin. That news alone was nearly enough to cause me to turn away, but the Dwarves beckoned me enter and so I did, much to my later chagrin.

Upon entering Durin's Threshold—nearly every feature in Moria is named after Durin, the father of the Longbeards—I began to inquire how I might pass as quickly as possible through Moria to Nanduhirion, the region outside the eastern gate of Moria. Luckily, the Dwarves had steeds that they could lend to adventurers brave enough, or some might say foolhardy enough, to enter the mines.

"Greetings, good Dwarf, I was told that I might find a steed suitable to travel the realm of the Dwarves within this hall."

The Dwarf, who introduced himself as Fith, broadly grinned and gestured to the stall that lie behind him. (At first I thought he said 'Filth', for that name certainly would have been accurate of him, but I reasoned that even a Dwarf, at least one of Durin's Folk, would not take so unflattering a name.)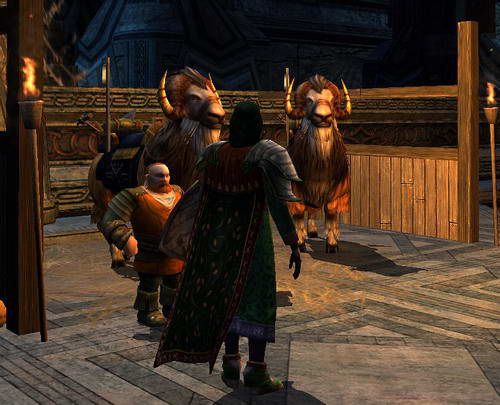 "There he is, my good Elf," answered Fith.

"What, behind the goat?" I asked.

"No," said the Dwarf, "it

is

the goat."

I glanced at the goat.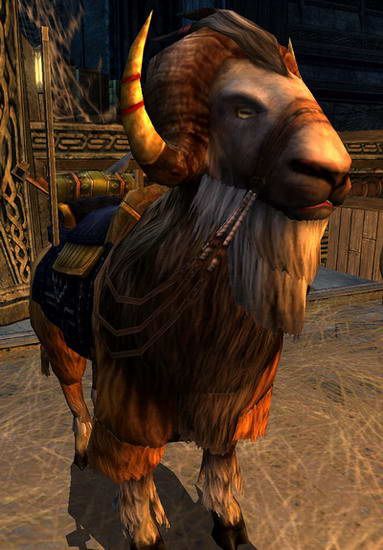 I looked back at the Dwarf.




I glanced again at the goat.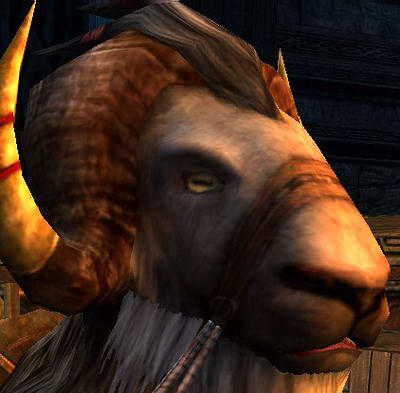 Then back to the Dwarf.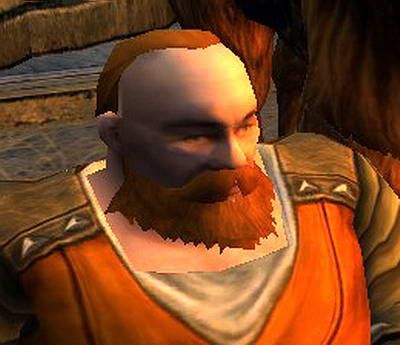 I detected no deceit or treachery in the Dwarf, at least no more than usual among a generally greedy folk that continually scavenge for jewels and precious metals in the bowels of the earth, so I wondered what he was about.

The goat, on the other hand, was much larger and hairier than any domesticated goat I'd ever seen. I had observed similar-looking wild goats roaming the western slopes of the Misty Mountains; this must be a tamed member of that species.

At first glance I noticed the basket filled with mining tools resting on the goat's rump. That wasn't so unusual, I supposed, although one might think that a mule would be a more fitting beast of burden in a mine. However, upon closer examination I observed a leather seat resting upon the goat's back where one might see a saddle upon a horse.





A saddle on a goat?



"You ride goats?" I asked incredulously.

"Of course!" replied the Dwarf.

My eyes bugged out, my jaw hit my chest, and my face must have turned twelve shades of purple because the Dwarf quickly leaped to my side to prevent me from collapsing.

"Come now, Master Elf," he said laughing, "I have ridden many a goat and am no worse the wear."

"I'm okay," I assured him, struggling to free myself from his large grimy mitts. "I just need a breath of fresh air." At the mention of 'fresh air' he stepped back and began to stare at me as though I were crazy.

Observing his expression of puzzlement I began to explain: "I am not from one of the hidden Elf-kingdoms," I explained. "My folk live by the sea, not buried in the earth."

"You're a long ways from the sea, Master Elf," he needlessly informed me, "but when you come to the Dimrill Dale on the eastern side of the Misty Mountains you may gaze at Durin's Crown reflected in the Mirrormere!"

"How long is the journey there?" I queried.

"Oh, I reckon about four days," he replied thoughtfully.

"FOUR days? UNDER the earth? On a GOAT?" I began to feel faint again.

"Yes, four days," he replied matter-of-factly. "That is unless you get lost," he added with mischievous glee.

Little did I realize how fateful his words would be.




Curulinde's journey through Moria, Episode I, Epilogue



I was dead set against riding the goat. However, after a prolonged discussion with Fith that went, in part--

I would not ride it
through the dark.
I would not ride it
in a park.
I would not ride it
here or there.
I would not ride it
anywhere.
I do not like
this smelly goat.
I would much rather
sail a boat.

--which was countered by Fith's surprising bit of logic--

You do not like it.
SO you say.
Try it! Try it!
And you may.
Try it and you may I say.

--I finally conceded to give it a whirl:

Fith!
If you will let me be,
I will try it.
You will see.