Foreword
Elves are long-lived. Indeed, they are virtually immortal unless they suffer a great accident, are slain in battle, or, in rare instances, die from grief. So how does one explain that an Elf, who may be thousands of years old, is still a lowly novice, i.e., level 1, at the time of the War of the Ring in TA 3018-3019? This proves to be a bit of a challenge in creating the back-story for an Elf, but, as you will see if you continue to read this post, not an insurmountable one.
The following is a bit of a tongue-in-cheek backstory for the Elven minstrel, Curulinde. It depicts Curulinde's transformation from a rather silly, if not outright foppish Elf into a grim, determined warrior.
The Tale of Curulinde
Curulinde Celeblammen
("Skilledsinger Silvervoice") came into this world late in the First Age of the Sun. A natural-born singer and storyteller, when Curulinde was young he would sing and dance at the slightest provocation, and often invented charming stories of birds and badgers and other creatures living by the rivers or in the forests.
Link:
Song of the Badger
His parents (whose names are withheld to save them from further embarrassment) at first were very amused and thought it "cute" that their young son was so creative. However, they became concerned when their son's storytelling evolved into fantastic tales of goblins sneaking into their home to break a lamp before vanishing without a trace leaving Curulinde, or so he claimed, to take the blame. Still the exaggerated tales were fairly innocuous, and Curulinde seemed to have a happy and reasonably normal, if slightly dramatic, childhood.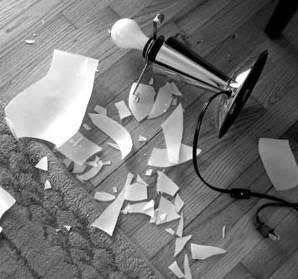 "A goblin did it"
Curulinde's family, a hard-working middle class clan living in the region south of the Gulf of Lune, owned and operated a successful textile business specializing in upholstery, and especially, window treatments. At last on the day that Curulinde came of age his father took him aside.
"Curulinde, my son," his father said, "one day soon your mother and I will be sailing West. On that day all of this will be yours." His father emphasized his point by sweeping his long arm across the showroom.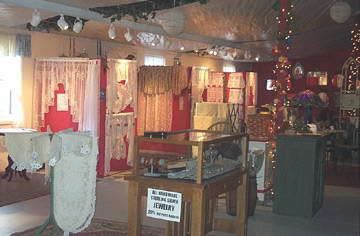 The window treatment showroom
"What--the curtains?" replied Curulinde.
"No, not just the curtains, son, but our entire textile business!" his father replied.
"But I don't want any of that, I'd rather..." Curulinde complained.
"You'd rather what?" demanded his father.
"I'd rather sing!" he happily exclaimed.
It goes without saying that Curulinde's father was not pleased, not pleased at all. In fact, as a result of Curulinde's disinterest in the textile business, his father strongly encouraged him to find his own way in life while his younger brother inherited the family business.
Life was not easy for the newly emancipated Elf. At first Curulinde waited tables in some of Harlindon's finer eating establishments, obtaining the occasional gig here and there performing for weddings, harvest festivals, coming-of-age parties, and events of that sort.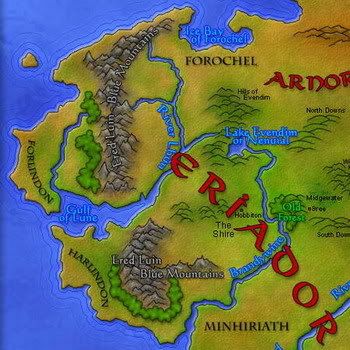 A map of Lindon
One day, however, Fate smiled upon Curulinde when he was hired to sing at the birthday party of Celebrían, the daughter of Lord Celeborn and Lady Galadriel. His performance was so well-received that he became their house minstrel, so to speak, often performing for the Lady when she was sad and sought consolement, or was happy and wished to be accompanied as she played her harp and sang. There are still tales of the wondrous music they created together, the Lady's harp and Curulinde's soulful flute. (It is small wonder that these tales still exist, for it is Curulinde who persists in telling them.)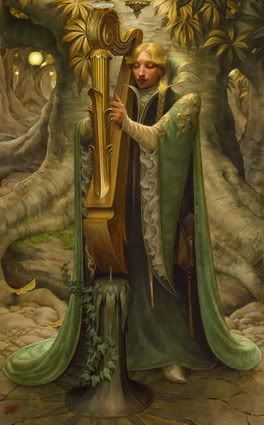 Galadriel and her harp
Then one day Lord Celeborn and Lady Galadriel informed Curulinde that they were moving east to establish their own kingdom in a land beyond the Hithaeglir (or "Misty Mountains" as they are also called) lying between the Celebrant and the Anduin.
"That sounds exciting!" exclaimed Curulinde. "When do we leave?"
"We leave at week's end, my friend," answered the monotoned Elf-lord, "but you will not be going with us."
"I'm not?" asked Curulinde as he struggled to hide the disappointment in his voice. "Does this have anything to do with your cat? I can explain that. You see, there were these goblins..."
"No, dear Curulinde, it has nothing to do with poor Lossmiriel," answered the Lady. She gave a quizzical glance towards her husband, who continued to stare vacantly at a potted plant. "Your days will be most blessèd, gifted one," she said, "but, alas, they will not be with us."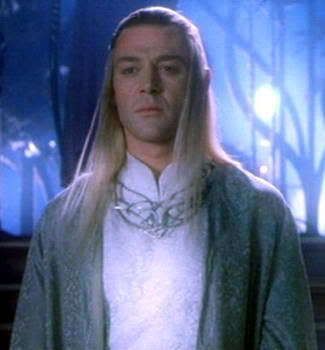 Lord Celeborn contemplates the process of photosynthesis in a common house plant
There is an Elven proverb that states when Ilúvatar closes a door, he opens a window somewhere else. Curulinde had always interpreted that to mean that the Children of Ilúvatar should strive to have plenty of fresh air. On this day, however, Curulinde thought that perhaps the All-Father had intended him to jump out of one.
"No, you silly goose," Curulinde told himself, "those are but the promptings of Morgoth! I think I finally know what that proverb means. It means that when Ilúvatar opens a window, it is the window of
opportunity!
"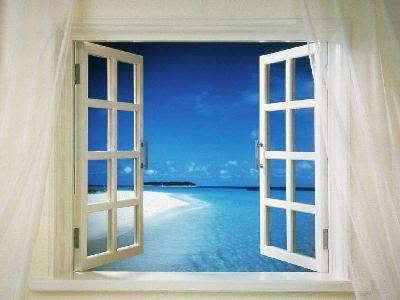 The Window of Opportunity
After a short time of waiting tables and performing other menial chores, Curulinde received his next big break when he auditioned for and was awarded the role of Munkustrap in a production of the musical
Cats
on Lindon's West End.
Cats
ran for many hundreds, even thousands of years, becoming the longest running musical in the history of Middle-earth.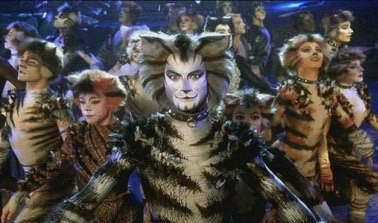 Munkustrap and the Jellicle Cats
Link:
"Jellicle Songs For Jellicle Cats" from the musical

Cats
Curulinde was not totally unfamiliar with warfare, however. Late in the 2nd Age he was hired to perform with a traveling company for the Elven Service Organization ( ESO) to entertain the armies during the war between the Last Alliance of Elves and Men and the forces of Sauron.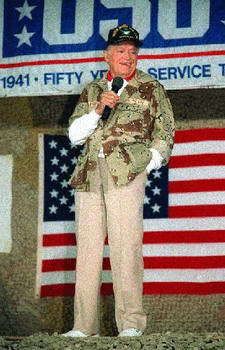 Robert Estel, a comedian on the ESO tour
One winter while his troop was on hiatus during the solstice holiday Curulinde had traveled north to Edhelion in the Ered Luin to perform at an engagement party when the city fell under attack by an army of Goblins,Trolls, and Dourhand Dwarves. It was there that Talagan Silvertongue recruited Curulinde to serve in the armies of the Free Peoples of Middle-earth.
Curulinde was astonished when he received the invitation. "Me? Fight in a war?" he thought. "Isn't that--dangerous?"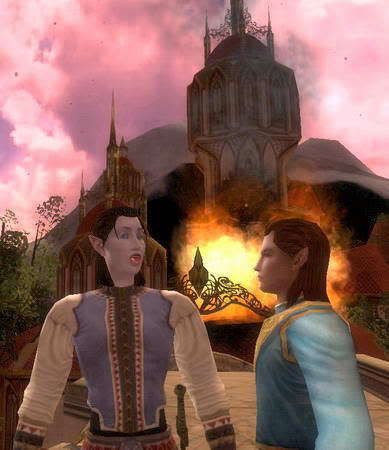 The thought of going to war alarms Curulinde
But as the city of Edhelion burned around him, the shrieks and cries of Elves and goblins killing and being killed filled his ears, and Haerandir, the Elf who had hired him, lay in a pool of blood at Curulinde's feet, something deep inside Curulinde moved.
Curulinde kneeled beside Haerandir's body, and said a quick prayer to Elbereth as he claimed the fallen Elf's dagger as his own.
"Yes, Master Silvertongue, I will serve."
"I will serve"