Rivendell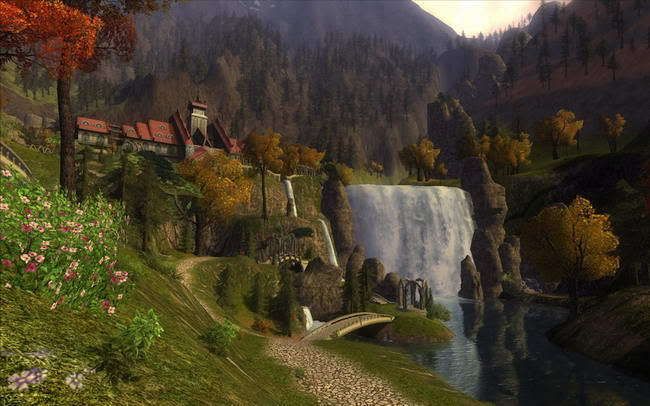 Introduction
Imladris (literally
valley–ravine
in the Grey-elven tongue) is called 'Rivendell' by Men but sometimes mistakenly called 'Rivendale' or even 'Rivervale'. This refuge in the western glens of the Misty Mountains was established by Elrond Halfelven in 1697 of the Second Age after the Mírdain of Eregion, i.e., the Elven jewel-smiths, were wickedly slain by Sauron.
How do I know I'm in Rivendell?
If you see these folks--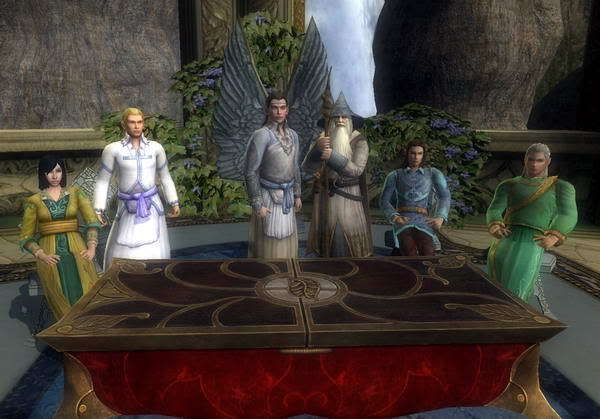 --you're in Rivendell.
If you see these folks--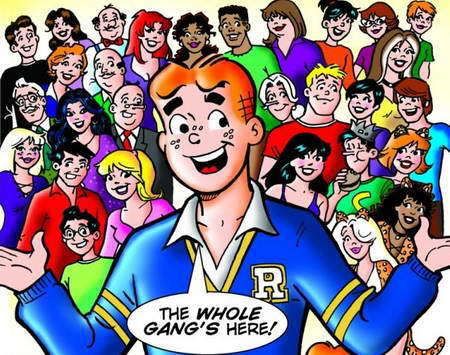 --you're in Rivervale.
Notable Residents - Elven
Elrond Halfelven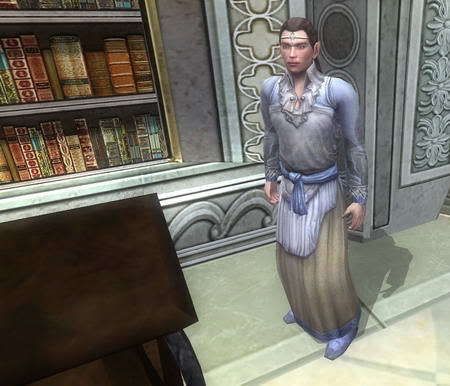 The face of Elrond was ageless, neither old nor young, though in it was written the memory of many things both glad and sorrowful. His hair was dark as the shadows of twilight, and upon it was set a circlet of silver; his eyes were grey as a clear evening, and in them was the light of the light of stars. Venerable he seemed as a king crowned with many winters, and yet hale as a tried warrior in the fullness of his strength. He was the Lord of Rivendell and mighty among both Elves and Men.
Fiddle dee dum, fiddle dee delf
Elrond the half-an-elf
Ho ho ho, hee hee helf
Elrond the half-an-elf
When some meet Lord Elrond for the first time they are surprised to find that he still possesses not only his right and left arms but both legs as well. Surely Elrond Halfelven the herald of Gil-galad earned his sobriquet during the battle when both the last High King of the Noldor and Elendil the High King of the Dúnedain were slain while grappling with the Dark Lord Sauron! (I wonder how bad Elrond's pathing was?) As unlikely as it may seem Elrond apparently survived the Siege of Barad-dûr whole and relatively unscathed. His ancestry, however, is a mixture of Elves and Men.
Elrond's father was Eärendil (yes, that Eärendil) whose ancestry was also of both Elves and Men. Eärendil's father, Tuor, was from the Third House of the Edain while his mother, Idril, was the daughter of Turgon, the King of Gondolin.
Elrond's mother was Elwing. Like her husband Eärendil, Elwing's ancestry was a mixture of Elves and Men. Elwing's father was Dior Eluchîl, the son of Beren Erchamion (a Man from the First House of the Edain) and Lúthien Tinúviel (whose father was King Thingol Greycloak of Doriath and whose mother Melian the Maia). Nimloth, Elwing's mother, was an Elf. (Nimloth the White Tree that grew in Númenor is no relation.)
If you do the math you discover that Elrond is actually 9/16ths Elf, 6/16ths Man, and 1/16th Maia. But Elrond the Ninesixteenthselven doesn't really flow off the tongue does it?
Arwen Undómiel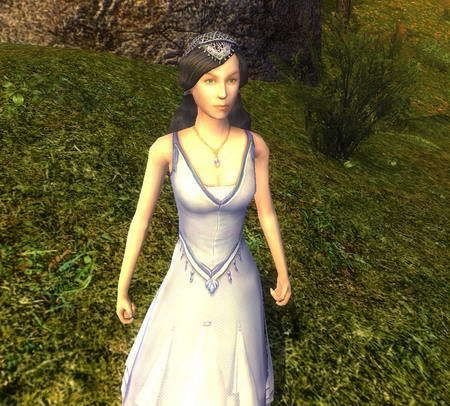 Young she was and yet not so. The braids of her dark hair were touched by no frost; her white arms and clear face were flawless and smooth, and the light of stars was in her bright eyes, grey as a cloudless night; yet queenly she looked, and thought and knowledge were in her glance, as one who has known many things that the years bring. Above her brow her head was covered with a cap of silver lace netted with small gems, glittering white; but her soft grey raiment had not ornament save a girdle of leaves wrought in silver.
Arwen, the daughter of Elrond and Celebrían, is betrothed to Aragorn. (She is Twentyfivethirtysecondselven in case you're wondering.) They will wed only when and if he is crowned the King of the reunified realms of Arnor and Gondor. If you've visited Annúminas or Fornost lately and have heard Boromir's grim report on the situation in Minas Tinas you'll know the odds on that occurring are pretty long.
Elladan & Elrohir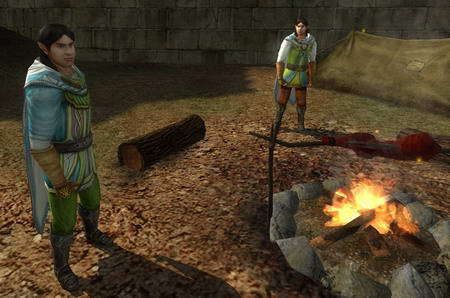 Elladan and Elrohir are the twin sons of Elrond. (Both also Twentyfivethirtysecondselven.) They are seldomly found at home. Currently they may be found at Thorenhad in the Trollshaws.
Glorfindel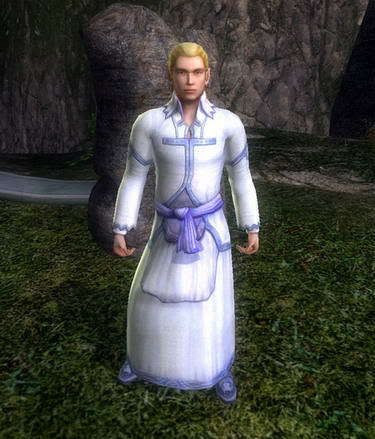 Glorfindel may or may not have been at the fall of Gondolin. It has been confirmed, however, that he does not have wings.
Notable Residents - Non-Elven
Bilbo Baggins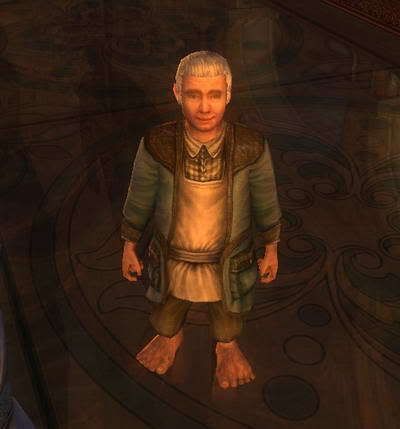 Bilbo Baggins, Hobbit of the Shire and
bon vivant
, retired.
Aragorn son of Arathorn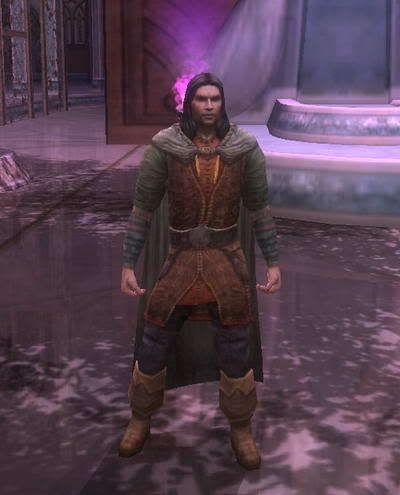 Aragorn, Chieftain of the Dúnedain of the North and Isildur's heir. Aliases include Estel, Thorongil, The Dúnadan, Strider, Longshanks, Wingfoot, and Elessar. Aragorn was fostered in Imladris after the passing of his father, Arathorn. He is found at home, if indeed it can be said that Aragorn even has a home, even less often than the sons of Elrond. He may currently be found in the Last Homely House.
Roheryn
Roheryn, Aragorn's horse, was a gift from Arwen.
Notable Visitors
Gandalf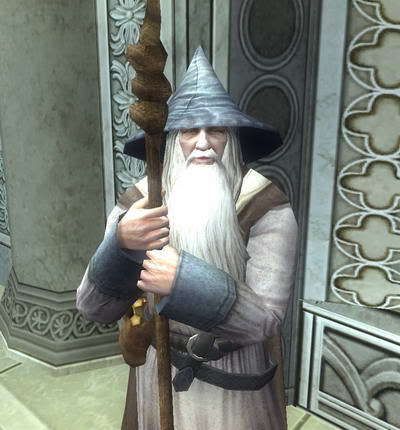 Gandalf the Grey whom the Elves call Mithrandir.
Frodo Baggins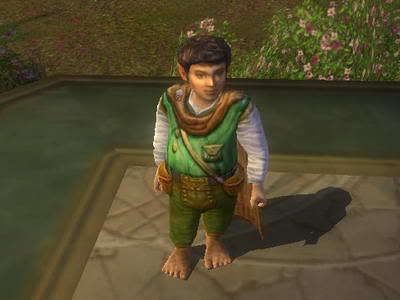 Frodo Baggins, Hobbit of the Shire, Bilbo's heir and a surprising source of +1 dread.
Samwise Gamgee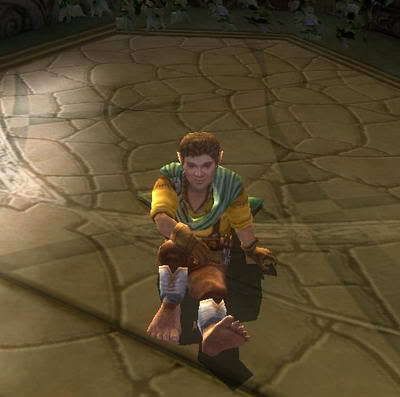 Sam is Frodo's gardner
Merry & Pippin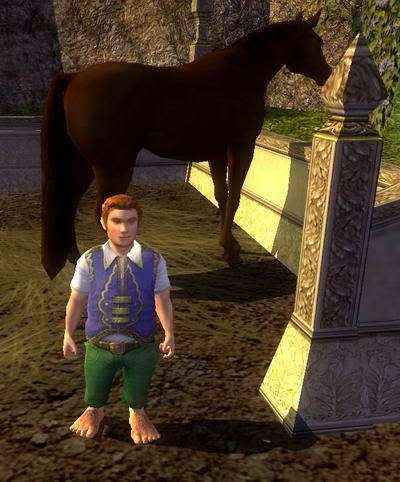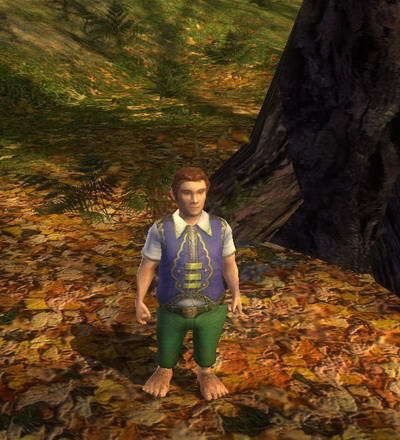 Peregrin Took, and Meriadoc Brandybuck, Hobbits of Tuckborough in the Shire and of Buckland, respectively, and Frodo's younger cousins. You'll find Pippin loitering around the stables and Merry hiding in the bushes near the Bard in the Marketplace of Rivendell.
Boromir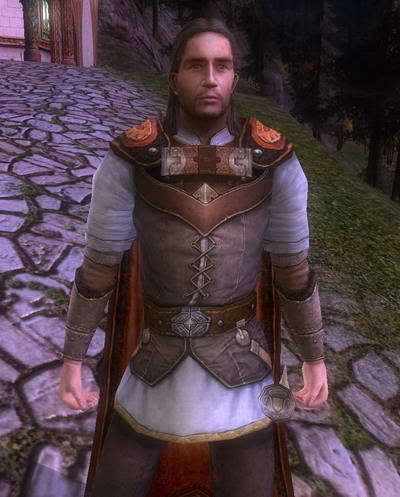 Boromir, son of Denethor the Steward of Gondor.
Legolas Greenleaf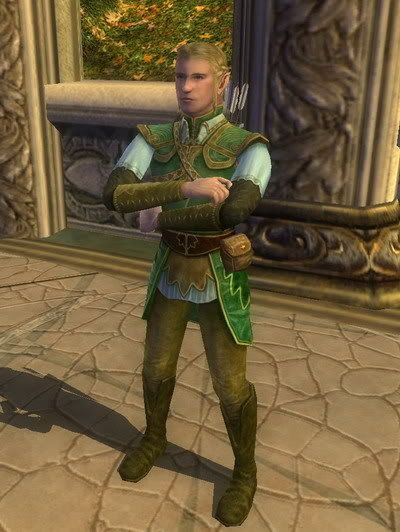 Legolas, son of King Thranduil of the Woodland Realm.
Notable Visitors - Dwarven
Gimli & Gloín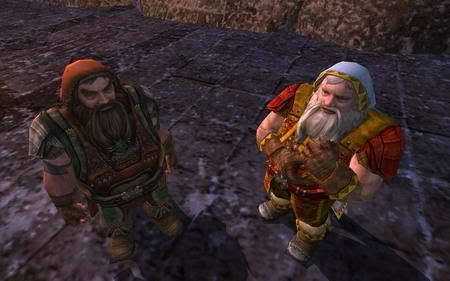 Gimli and his father Gloín of the Lonely Mountain. Do you think it's a coincidence that the Dwarves are out in the cold of the Misty Mountains while the Elves, Men, and Hobbits enjoy all the comforts that Rivendell has to offer? (They'll tell you that Dwarves enjoy the cold but the truth is they're freezing their hammer and tongs off.)
The Nine Walkers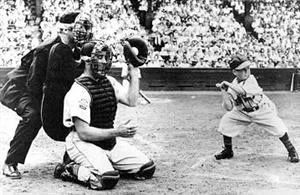 Word has gotten out that Elrond has assembled a fellowship he calls 'The Nine Walkers' comprised of Gandalf, Aragorn, Boromir, Legolas, Gimli, Frodo, Sam, Merry and Pippin. When your team includes four 3-1/2- foot tall Hobbits and a 4-foot tall Dwarf taking a lot of pitches seems like a wise strategy. I suggest, however, that Aragorn, Boromir, Gandalf, and Legolas swing away. After all, someone has to drive in the runs.
Facilities found in Imladris
Last Homely House
Statues of Celebrimbor, Gil-galad, and Lúthien Tinúviel may found both outside and inside the Last Homely House and throughout the Rivendell Valley. (They are almost as numerous as the gazebos.) Copies of the statues are available for purchase in the Imlad Gelair gift shop.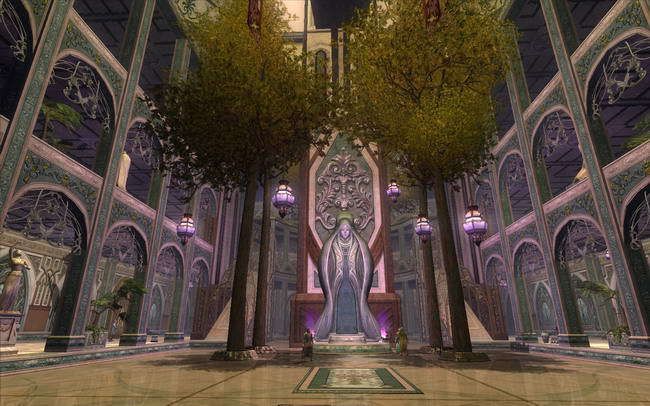 Bilbo Baggins once said:
[Elrond's] house was perfect, whether you liked food, or sleep, or work, or story-telling, or singing, or just sitting and thinking best, or a pleasant mixture of them all.
Hall of Fire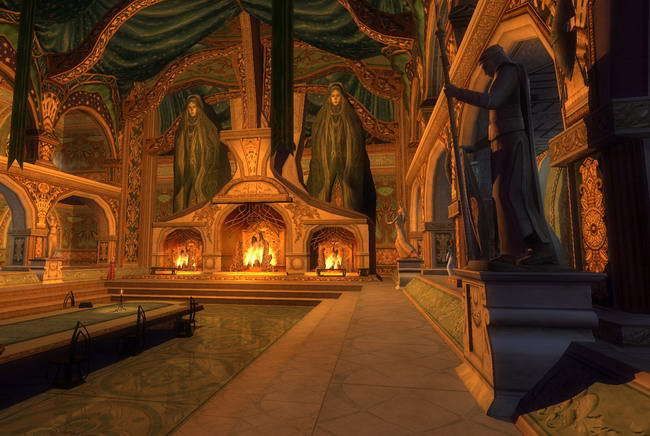 'This is the Hall of Fire,' said the wizard. 'Here you will hear many songs and tales--if you can keep awake. But except on high days it usually stands empty and quiet, and people come here who wish for peace, and thought. There is always a fire here, all year round, but there is little other light.'
Library of Elrond with Superior Study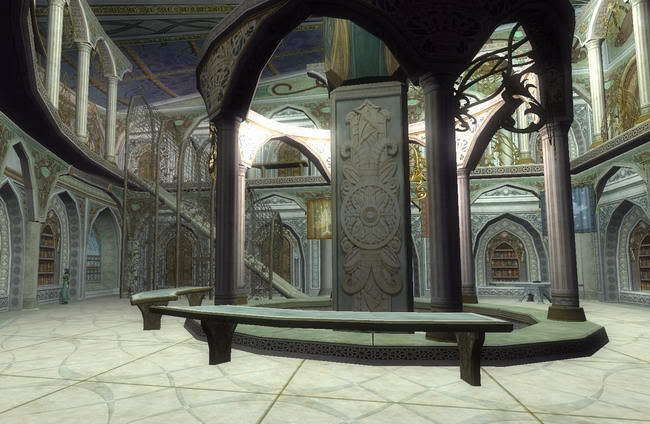 Imlad Gelair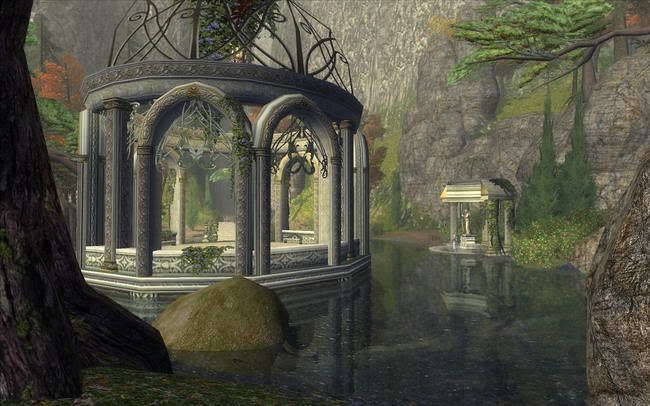 Complete with members-only shopping, discounted equipment repair, and superior forge
Elrond's Stables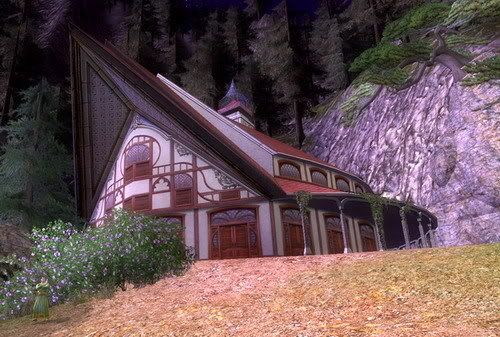 The Forge of Rivendell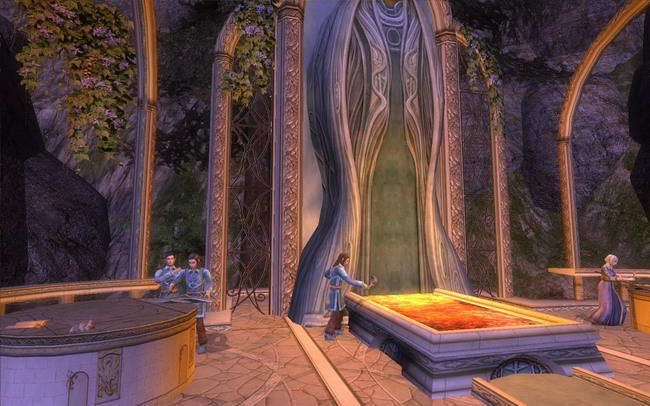 Of course Rivendell has its Auction house
alfresco
, the usual assortment of merchants and class trainers, as well as more
gazebos
than you can shake a lore-master's staff at.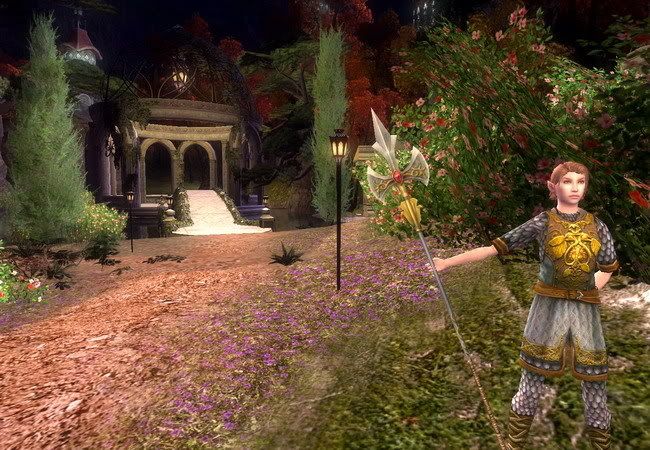 The Elves are understandably very protective of their gazebos.