Hi everybody and welcome on the

second
Official Tengwar Transcription Thread
!!!


So you can post here all the

Tengwar transcription

you need. Notice that Tengwar is not a language : it's a different script, a different manner to write the letters and sounds. So if you want your word/sentence to be
translated
in an Elvish language before transcription, then you may post before in the appropriate translation thread. For
Quenya
, go on the Official Quenya Translation Thread, and for
Sindarin
, the Official Sindarin Translation thread. Then come back with the final sentence and ask for transcription in Tengwar.

Another way to do it is to keep the word in English (or whatever other language) and transcribe it

directly

in Tengwar. If your request is in another language, I suggest you

tell us in what language it is

, so we may use a transcription mode which is more appropriated to the starting language. The more details you give, the more easy it is for us to give you a good answer.
Talking about this, notice too that

there is never a unique good transcription for a word

. Tolkien created a lot of transcription modes and that is the reason why you can have a different answer asking to different people, and both can be good !


For the moment, I seem to be the only one answering the requests. I have to tell that I am no moderator or any official reference in TORC. I'm just someone who discovered this site and got some a little help from other bloggers here, and I decided, as a elvish fan, to help others less informed elvish fans. And over all, I just

looove

to do this : translate and transcribe. So the transcriptions I offer you reflect

my

opinion... but I think they're accurate... or at least as accurate as we can attest with the information that Tolkien the great Master let us. As I said, many transcription modes are circulating... If someone else is interested in doing some transcriptions here too, just tell me and we'll split the job !

Now here is the way I'm personnally working : I take note of

every

request and try to do them in order, with some exceptions if I have a very good reason !
If you post a transcription you made by yourself that you want me to check, I usually work on your request quicker.
And to discourage double-posting, notice that
if you post your request many times, you go down on my list

because it erases your first request !
This technique seems to work ! hahaha ! So note that I'll start with the last requests that were made on the first transcription thread which is now closed, and then I'll go on with what will be posted here. You can also visit this thread if you want to see examples of what I do (I have started not so long ago, so you can start by the end if you prefer).

One last thing :
please be patient
. I have a

lot

of work
and I can put the transcription in my computer and then transfer in on the thread just when I'm home and have free time, which doesn't occure every week. But I'll finish by doing your transcription, don't worry.

And sorry for my horrible English... you may have noticed that it is not my native language at all !
*Edited* :
Here are a few examples of fonts that you can ask for, using my name as an example. All can be in bold too, if asked. If you have other fonts and would like to know if they fit too, just send them or post a link to them !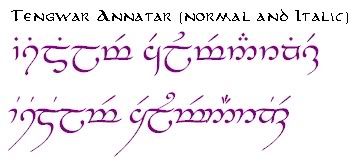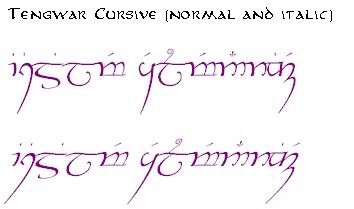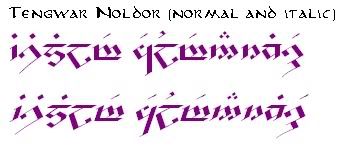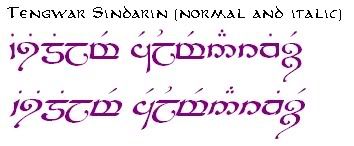 And here is a list of some Tengwar fonts that are incomplete or not compatible with my system, so I suggest we don't use them if possible (I post the list in case you know these fonts).
Tengwar 03
Tengwar 04
Tengwar 05
Tengwar Annatar Alt
Tengwar Eldamar Alt
Tengwar Elfica A
Tengwar Formal A
Tengwar-Gandalf
Tengwar Marzabul
Tengwar Parmaite Alt
Tengwar Quenya 1 (incomplete)
Tengwar Quenya 2 (incomplete)
Tengwar Quenya-A
Tengwar Typewriter
Isildilmë Celumenarwissë
P.S. : to add a new comment or request, click on "
Post a reply
" at the top or bottom of a page,

not

on "Post a new topic" !