EXPLANATIONS FOR THIS THREAD !!!
Please read : I know it's long, but it will help me to give you the best transcription I can

Hi everybody and welcome on the

fourth
Official Tengwar Transcription Thread
!!!
I open this thread almost exactly two years after I started giving transcriptions here at TORC… Happy birthday to me !
WHAT IS THE DIFFERENCE BETWEEN

TRANSCRIBING

INTO TENGWAR AND

TRANSLATING

IN "ELVISH"
So you can post here all the

Tengwar transcription

you need.

Tengwar is not a language

. It's a script, a lettering system. You can write all the languages with Tengwar, as well as you can write all the languages with Roman letters (what is for us the normal letters, and that we can use for everything, even for Chinese, but the language is still Chinese, you see ?).

The particularity with Tengwar is that depending on the language your transcribing, the Tengwar will correspond to different letters or combinations, because of the particularities of the language itself. That is why I ask later in this post to always precise in what language your quote to transcribe is.

So if you want your word/sentence to be
translated
in an Elvish language first, you may post first in the appropriate translation thread. For
Quenya
, go on the Official Quenya Translation Thread, and for
Sindarin
, the Official Sindarin Translation thread. Then come back with the final sentence and ask for transcription in Tengwar. To learn more on the story of the languages created by Tolkien, visit the Elvish Language FAQ.

Another way to do it is to keep the word in English (or whatever other language) and transcribe it

directly

in Tengwar.

Tell me in what language your request is

, so I may use a transcription mode which is more appropriated to it. The more details you give, the more easy it is for me to give you a good answer.
LANGUAGES FOR WHICH I HAVE A TRANSCRIPTION MODE
Here are the languages for which I

already

have a transcription mode (made by Tolkien or by fans adapting his work) which seems reliable. Notice that I don't speak all of these ! I used already the majority of these, but not all, so I may have bad surprises when the time comes, and realise that I can't use them. The different colors permit me to identify which mode I'm using. I normally use the corresponding color (in the past, it was not always the case for some languages, but I should be able to respect my own system by now !).



If your language is not listed here, it doesn't mean it can't be done. Ask me and I'll see if I can find a decent transcription mode for it. If not, we can just take your request and treat it as if it was written in English or another language, transcribing it letter by letter, or by phonetic. Everything can be done.
HOW ACCURATE ARE THE TRANSCRIPTIONS ?
I'm sad to inform you that Tolkien, which was the only one who could really decide of what was better, is dead
. Before this sad event, he created a lot of transcription modes and that is the reason why you can have a different answer asking to different people, and both can be good ! To me,

there is never a unique good transcription for a word
. My transcription mode for English is mostly orthographic, with

some

concerns about phonetic. For other languages, it depends.
AND WHO AM I, BY THE WAY ?!
For now, I'm the only regular transcriber here. I'm not a moderator and I'm not an official reference in TORC (but with time I guess I gained recognition !). I just

looove

to do this : translate and transcribe. So the transcriptions I offer you reflect

my

opinion... but as far as I'm concerned, they're accurate... or at least they respect some writings by Tolkien the great Master. As I said, many transcription modes are circulating... If someone else is interested in doing some transcriptions here too, just tell me and we'll see what we can do ! These threads are not my property, but with the time, as I took charge of the end of #I, the whole life or #II and III, and as I'm now giving birth to #IV, they became my babies, so I like to be consulted… thanks for understanding !
NOW, THE MOST IMPORTANT PART TO READ BEFORE YOU ASK FOR ANYTHING !
This is what you should tell me in order to have the best transcription (you wouldn't want any errors, would you ?!) :


the name/quote/whatever you want to be transcribed
the language in which it is (if you don't specify, I may think it is English…)
the font(s) you want (see the end of this post for examples, be as precise as possible)
any other details that may help generating the best transcription possible

Don't hesitate in giving me the story behind, it's funny, sometimes, to see how they give life to these otherwise cold requests !

If your request is not complete, I may ask you to read this post and complete it
, or I may guess and if I guess wrong, it is not my problem !
THE WAY I PROCEED
Now here is the way I'm personnally working : I take note of

every

request and try to do them in order, with some exceptions if I have a very good reason !
Having your appointment already scheduled is NOT a good reason.
If you post a transcription you made by yourself that you want me to check, I usually work on your request sooner. And please,

no double-post !

. And I'm not constantly confirming I saw every post. If you post a request and you can see your post on the thread, I can see it too, and I'll see it. If I don't answer, it's because you are on my list and I don't have questions for you because your request is clear enough. If you see that I answer to people who posted after you, and you are afraid I skipped you (always possible, I think it happened like 4 times on over 2000 transcriptions), just ask me if I forgot you.

So note that I'll start with the last requests that were made on the third transcription thread which is now closed, and then I'll go on with what will be posted here. No need to post again if you did it on the third thread before my closure message. You can also visit this thread, the second transcription thread and the first transcription thread if you want to see examples of what I do (I have started transcribing on these thread in January 2010).

One last thing :
please be patient
. I have a

lot

of work
and I can put the transcription in my computer and then transfer in on the thread just when I'm home and have free time, which doesn't occur that often. But I'll end up doing your transcription, don't worry.

And sorry for my horrible English... you may have noticed that it is not my native language at all !
THE FONTS
Now here are a few examples of fonts that you can ask for, using my name as an example. If you have other fonts and would like to know if they fit too, just send them or post a link to them ! Here is a key of abbreviations you can use (I'm trying something new with these abbreviation, lets see if it will work !) :

(R) = regular
(I) = italic
(R+B) = regular + bold
(I+B) = italic + bold
For example, if you want "Tengwar Annatar Italic, Tengwar Annatar Regular and Tengwar Sindarin Regular Bold", you can ask me for "TA-I, TA-R and TS-R+B". Please always precise the font and the style.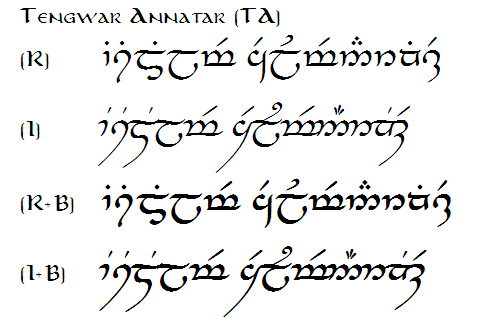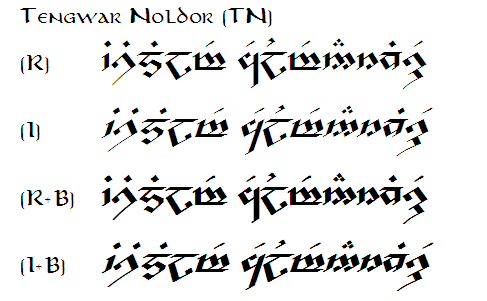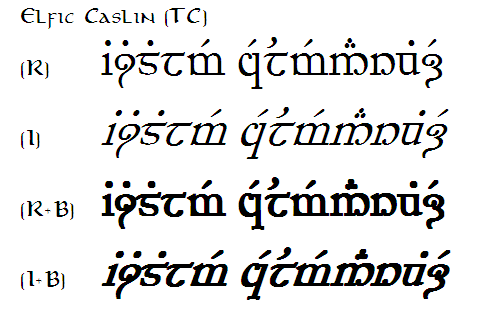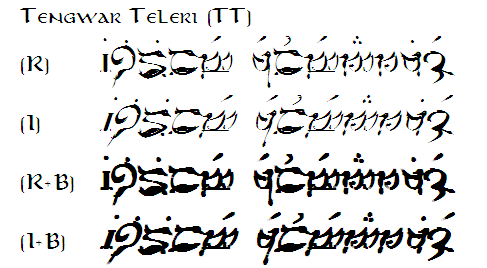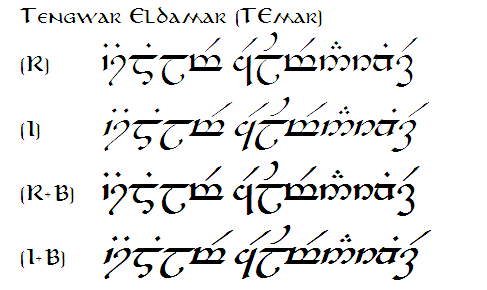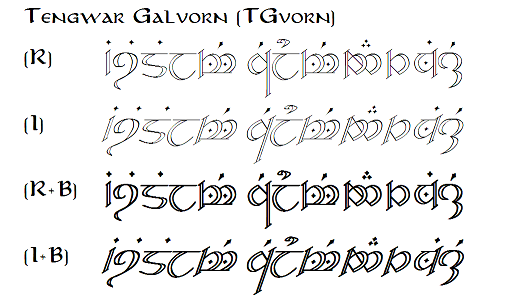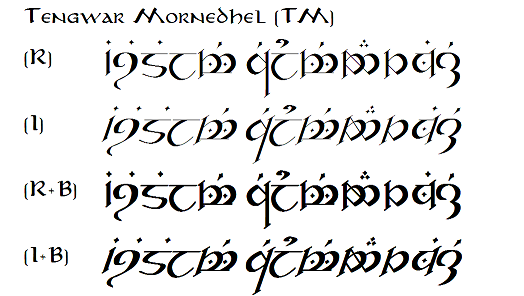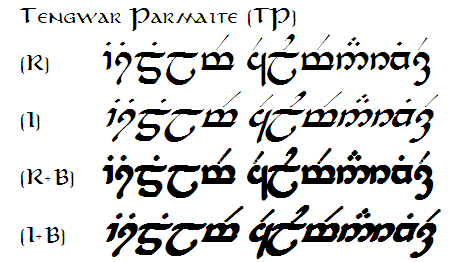 And here is a list of some Tengwar fonts that are incomplete or not compatible with my system, so I suggest we don't use them if possible (I post the list in case you know these fonts).

Tengwar 03
Tengwar 04
Tengwar 05
Tengwar-Gandalf
Tengwar Marzabul
Tengwar Quenya 1 (incomplete)
Tengwar Quenya 2 (incomplete)
Tengwar Quenya-A
Tengwar Typewriter
P.S. : to add a new comment or request, click on "
Post a reply
" at the top or bottom of a page,

not

on "Post a new topic" !

If you need to join me for any reason (if you have an image to send me, a question you prefer not to ask here, etc.), feel very free to email me clicking on the button at the bottom of any of my posts, or directly with your email at
isildilme@hotmail.com
. Don't feel sorry to do so, this email was

made

for this ! But to be fair with everybody, I ask you to be sure you post your request

here

, and not just at my email. I make my request list using the thread only.